Are you curious about trends for interiors? Particularly for 2020? Of course you are! I was recently at Domotex (the world's most popular rug and flooring fair in Hannover, Germany) and the imm Cologne (European design fair that kicks off the year for the trade) on behalf of the German Furniture Industry (Verband der Deutschen Möbelindustrie, VDM) and their #zuhausesein initiative which gave me tremendous exposure and insight into what's happening in the interiors market right now in Germany and abroad. There are so many trends, wow! Today, I want to highlight 5 that have stood out for me so far.
Ames Design (rug only)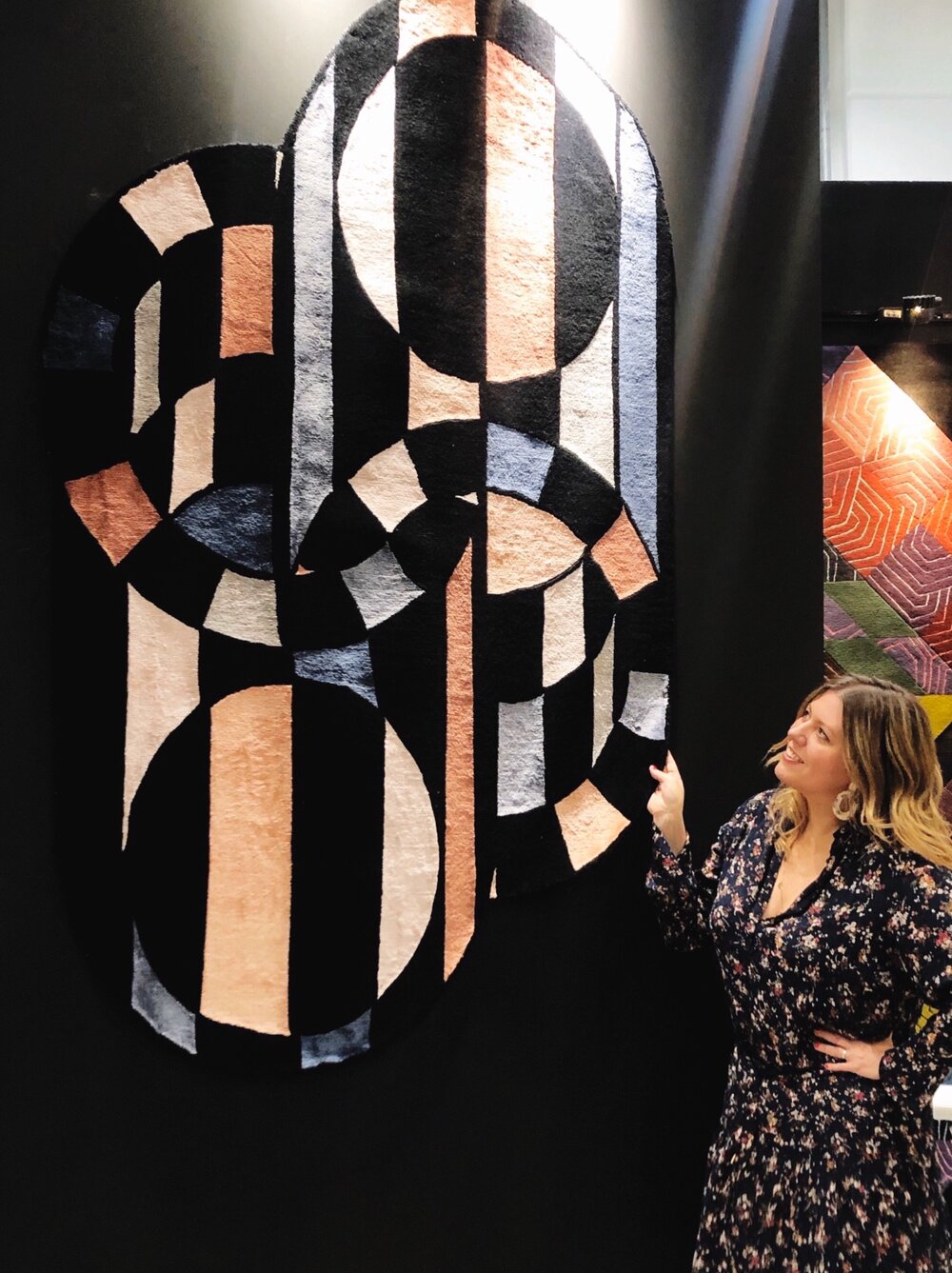 Domotex Hannnover
cc tapis (rug only)
Arte wallpaper made from Fabric
Freistil by Rolf Benz
1> TEXTILE/RUGS ON WALLS
I keep seeing rugs as art pieces displayed on walls. But also beautiful fabric on walls (fabric wallpaper) or just pretty small blankets or throws on walls that are "soft art" more than anything else. But rugs on walls are really the focus right now. Rugs that are shaped in interesting ways on the wall – not just the typical rectangle. Rugs shaped like animals on walls. Rugs that have fringe or are made to look like a mixed media collage with various soft materials. It seems we really want something warm and fluffy to move from the furnishings in our home and the floors to the walls – perhaps it's because we crave more intimacy and feeling in our life due to our high consumption of electronics use. I mean, how many times a day do you pick up your smartphone or use a computer? We are constantly swiping and living in a virtual world. Rugs on walls give us that tactile element, FEELING. Perhaps this is the pyschology behind rugs on walls. Who knows. But I really love this return to the 70s and hope to see more of it, in very creative ways.
imm Trend Display
imm Trend Display (rug by cc Tapis)
2> COLORED GLASS
I saw a lot of colored glass as the fair, and continue to see brands experimenting with glass. Receycled glass is and needs to become even more of a focus here. Glass reflects light, and in winter, we need objects around us which reflect light back to us, not soak it in (as matte ceramics do). Glass sparkles, it shines, and it elevates a space. I also think pastel shades of glass mixed together are gaining popularity – so pale yellow, lilac and pink glass shown together on a shelf. Also, glass in warm 70s tones – mustard, brown, beige, bordeaux.
GUBI pop-up at Qvest Hotel Cologne during imm
Ligne Roset – new collection by Sebastian Herkner
GUBI pop-up at Qvest Hotel Cologne during imm
me at Domotex Hannover
GUBI pop-up at Qvest Hotel Cologne during imm
3> BEIGE, SCULPTUAL, TOUCH OF BLACK
I can't believe this is still a trend, but it definitely is. Brands with stands that stuck to a very neutral palettte, very strongly edited, with sculptural everything. Roman columns, or beige matte ceramic vases that look like twisted tubes, furniture that could stand alone as almost an art piece, it is still an overwhelmingly popular movement to have rooms almost devoid of any colors other than neutrals. Another important thing to note – gray is definitely not part of this. The accent is black. Seems people have had it with gray and white Scandinavian homes and have moved on to warmer beige and cream (or colorful) ones. I really am grateful for that. I really have had it with white walls and coming from me, that's a big statement because 10 years ago white walls were all I saw and wanted to see..
Freistil by Rolf Benz
Freistil by Rolf Benz
BRETZ – I love this sofa!!!
4> COLOR COLOR COLOR
All white walls just aren't the thing anymore. There is color, texture on walls, wallpaper, mineral paints, it's all very cozy. Color is definitely present in a very big way right now. Lots of it in fact – mostly warms tones of apricot or mossy green tones or color in pastel tones like pale blue and lavender…, but color color color! There is also this return to Memphis-era color in primary tones – particularly blue and yellow. I saw a lot of yellow accents, but also sea tones and again, 70s colors. Also drapes. Seems there will be more and more fabric on windows again, people again crave to turn their homes more into a womb-like environment with lots of warmth and tactile elements. Fabric drapes really help to accomplish that.
My favorite: New SIMETRIA wall cabinets from Schoenbuch by Studio Besau Marguerre
Floating office – a desk that you can leave everything on, and just raise to the ceiling for more floor space.
Menu – Love the wall storage
5> SMART, BEAUTIFUL STORAGE
I saw tons of examples of smart storage. Shelves and cabinets, Bar cabinets. Bar carts. Cabinets with doors in various shapes that you can add to your wall that blend with art, bins and boxes for kids toys, cabinets in beautiful oval shapes that open to reveal storage for a mini bar with mirrored doors and lights, storage storage storage. I really get the impression that we want LESS STUFF around us, but not necessarily LESS stuff in general. We still want our things but behind stylish closed doors. Despire the trend towards minimalism, there are still plenty of people who want the best of both worlds. To live in an environment that outwardly appears edited and decluttered, but where you can open a cabinet and have all of your things available at anytime you need them. I personally relate to this because I'm not a minimalist at all but I also don't like a ton of visual noise and stuff surrounding me at home. Smart, beautiful storage is a trend that will be around for as long as we have humans living on this planet – we will forever be seeking clever ways to live with the things that we love.
I also spotted more "ocean" motifs like shells, whales and sea-themed things, also multifunctional furniture where you can easily transform a sofa into a bed, desks that raise to the ceiling to give you more floor space, sustainability is a trend, outdoor spaces becoming increasingly more important – transforming outside patio space into another "room", and so much more.
Have you spotted some trends already for interiors for 2020?
Love,
Holly
(All photos: Holly Becker for decor8)
(This post is sponsored by the Association of the VDM – German Furniture Industry. All words and thoughts are my own and I only work with brands that I love and support whom I think you will too.)
Related Videos