Hello dear friends, how are you in these crazy times? We've been quarantined here in northern Germany for three weeks which means I am really missing days spent lingering outside with my little boy in our many parks, gardens, and playgrounds. Springtime this year has been phenomenal too, today is sunny in the low 70s, and I'm on my laptop sitting on my sunny balcony dreaming of a time in the very near future when coronavirus is just a memory…
One thing that brings me peace of mind right now, especially since we canceled our summer holidays, is to travel through Instagram each day to find inspiring people, places and interiors. It really helps to readjust the mind and realize that there are still so many things right in our homes that can be as nourishing and rewarding as a vacation, we just need to get creative. There are so many, thousands, of great Insta accounts. I recently came across Villa Lane, do you know this one? It's a concept store in Australia with such gorgeous decor objects and furniture… It was really love-at-first-sight for me because all I'm thinking about right now is my HOME and renovating my HOME and making my HOME super beautiful for Spring and Summer so I love to be here more. Are you feeling the same way lately? I can't do enough home projects at the moment…
After looking at Villa Lane, I simply had to create a list of 10 ideas and objects that can bring this tropical vacation touch to our homes right now, so here's my list – which ones do you like the most? I'm curious to see…
Mirrors with natural frames (or frame-less)

Wood, rattan, stone, marble, anything that is natural works beautifully. Even frame-less mirrors are perfect. Mirrors bounce light around the room and some even mimic doorways and windows upon first glance, so they really open up a room and make it feel larger than it is.
2. Wiener Geflecht aka "Woven Cane"
This is a big trend, usually spotted on cabinet doors, chairs (think Thonet), and headboards. I have a woven cane headboard in my bedroom and I love it. I've had it for over a year (since 2018) and it never goes out of style.
3. Rattan furniture
Especially chairs, stools, benches, and daybeds. They are light and airy, easy-breezy, and just feel and look like summer at the shore. Bring in natural linen and throws in tones of white, a few large green plants, and your favorite book and you've just created an outdoor oasis at home.
4. Hanging chairs
Oh yeah, this just oozes with a holiday-vibe, doesn't it? You can hang one on a balcony or patio, or indoors near a window or to create a cozy corner.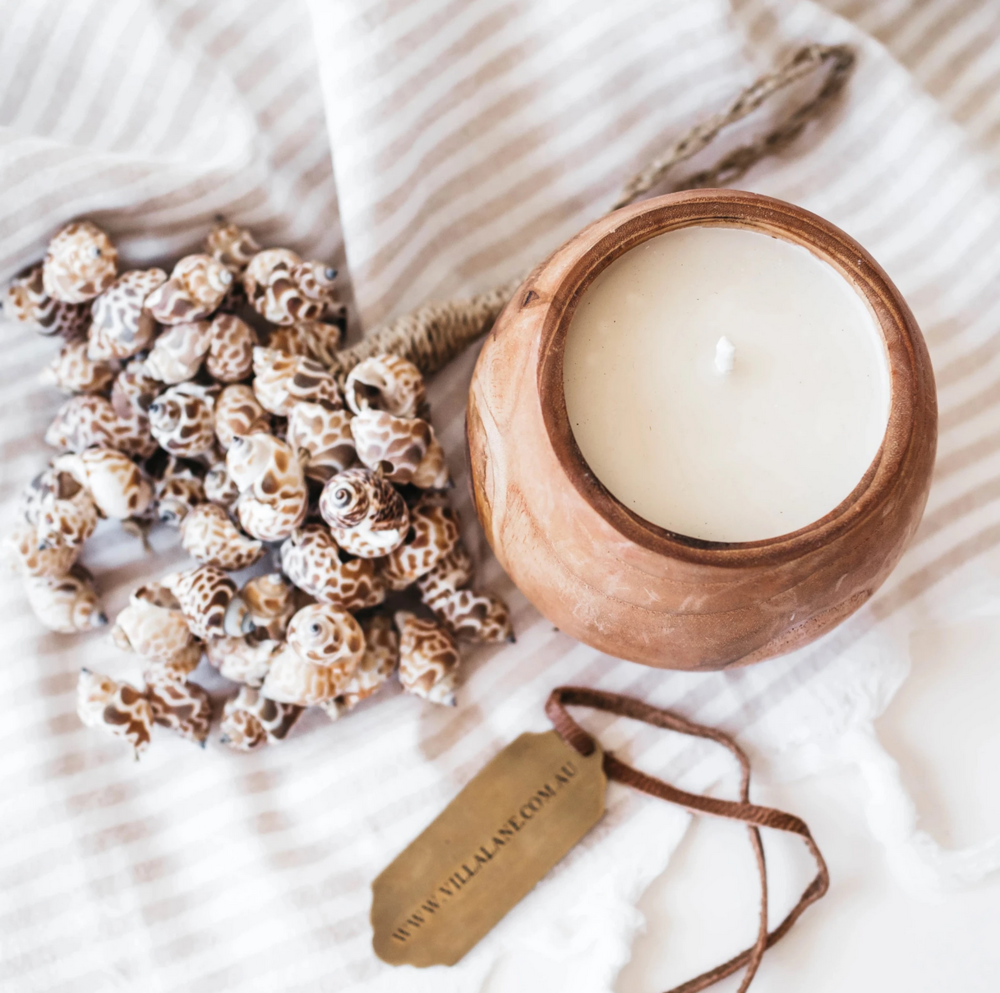 5. Candles and Shells
Something about twinkling candles and shells feels so romantic, boho and beach-y to me. I grew up with the beach in my backyard, so I guess I have experience. My mother and I would comb the beach for hours to find shells, starfish and sand dollars to display in bowls at home and to arrange around candles.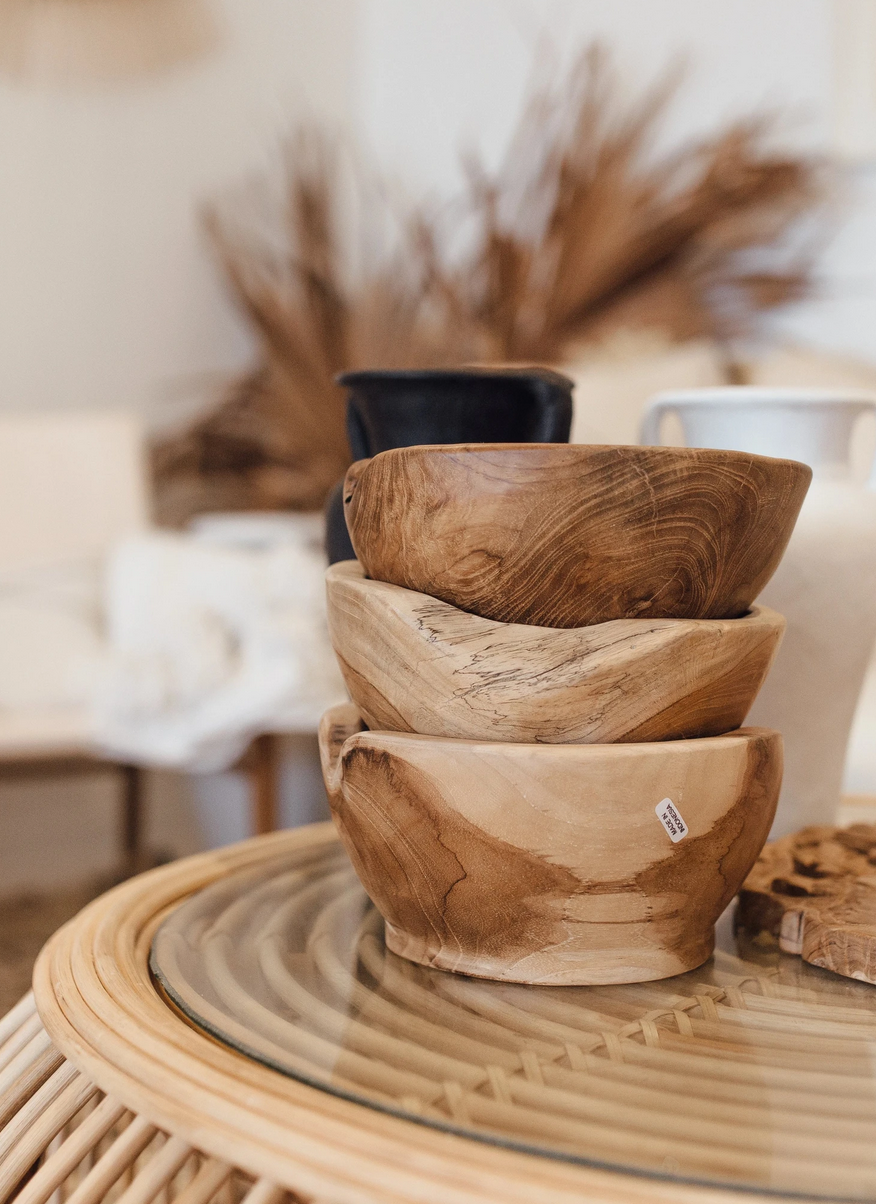 6. Teak bowls and plates
Teak is one wood that instantly sends your senses on a tropical escape. You definitely don't see teak and think of Chicago or New York! You think of islands, resorts, poke bowls…
7. Sculptural Pottery and Ceramics
Oh yeah, these really suit this look so nicely and look especially good if you arrange in groups, or singles with a palm leaf inside or a plume of pampas grass. They need to be chalky matte and in white tones or beige tones to work best, or you can go with terra cotta or chalky-matte black for some high contrast.
8. Tropical plants, cacti, and succulents
You can decorate with real plants, plant prints, and art, or mix both! Plants and their shot of green finish this look off perfectly. They also are great for the air quality in your home, something especially important and on our minds lately.
9. Leather
Beige, brown, cream or white leather paired with wood – wow! This really works and levels up the decor overall, in my style, adding a certain warmth and richness to the scheme.
10. Woven baskets
I love these especially, they are so graphic and unique, doubling as wall art. Baskets on the floor filled with throws, toys, magazines, baskets on shelves, a basket in the bathroom on a counter with rolled washcloths inside, baskets are practical and pretty.
So… What do you love from my list above? You can purchase everything from Villa Lane if you see anything that strikes your fancy, they are Australian but just opened up for Int'l shipping so go for it.
Have a lovely day, friends!
Love,
Holly
Psst: Villa Lane also run another account called Sea Maiden which is their coffee shop and cafe.
(Photography by Villa Lane)
Related Videos